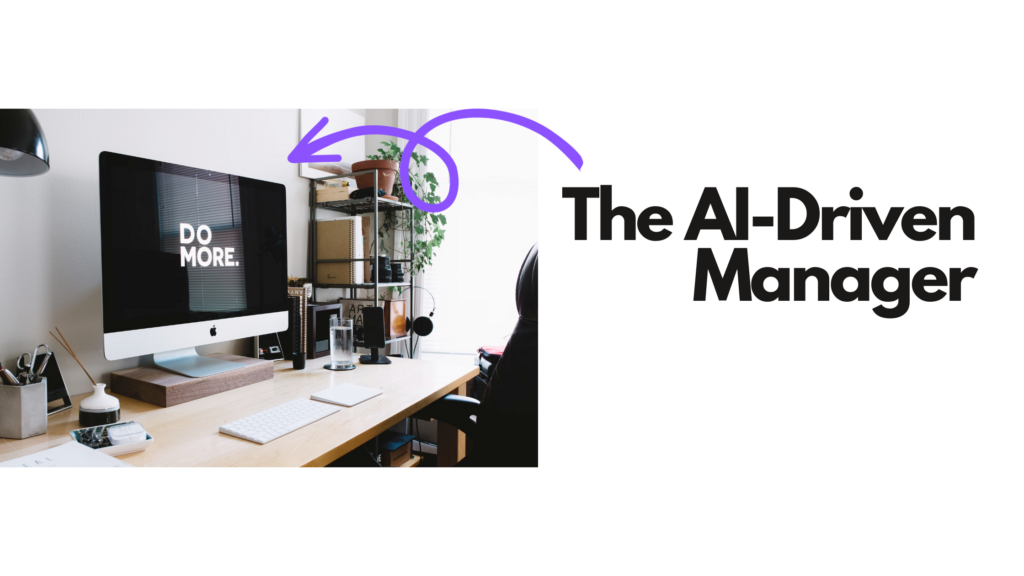 AI won't replace managers, but managers who use AI will replace managers who don't.
That's the bottom line no matter what industry you're in, say executives like IBM SVP Rob Thomas and Harvard Business School professors like Karim Lakhani. In fact, 70% of executives surveyed by Gartner say their companies are exploring investment in generative AI.
If you're a people or department manager who wants to get head of the AI-powered revolution in how businesses are structured and run, you need to understand and embrace the opportunities of AI now.
You need to become an AI-Driven Manager.
Perhaps more accurately we can call AI-influenced management as you're still fully human and fully accountable for your management choices. Regardless, every manager aspires to improve their management and business skills, and in the digital age, AI tools are emerging as invaluable allies.
This blog post delves into how AI can enhance various aspects of management, making you — even if you're a non-technical manager — stand out and even pave the way for that sought-after promotion. In it, we cover how you can use AI-driven strategies for People Management, Meeting Management, and Business and Project Management.
How AI Can Improve Your People Management Skills
A manager is judged by the output of their team, and thus how they manage their people. Let's explore how AI is revolutionizing how to improve your effectiveness in this domain.
Feedback and Performance Reviews
High quality, consistent, and timely feedback and well-structured performance review systems are essential to building high-performing teams. But doing this well takes considerable time as well as strong communication skills. AI can help manage the process of collecting your thoughts for feedback and reviews, processing the information, and presenting it in an easy-to-digest manner for your team members.
Here are a few prompts to give to your favorite AI writing tool (e.g. ChatGPT) to help save you time:
Writing Performance Reviews for a Team Member
Write a performance review for [Employee Name] using the following list of facts about how they performed this [Timeframe of the Review Cycle]. Provide the review in paragraph form and in three separate buckets: Areas of Impact, How They Have Affected the Team, and Areas for Growth.
[Factual information about employee #1]
…
Writing a Performance Review for Yourself
I am about to write a performance review for myself. What are the top questions I should ask myself help me understand what my performance was like last year?
Build a Development Plan for an Employee
My direct report needs to develop their skills for [specific competency.] You will make a development plan for the employee and for me to help them. I would like you to provide 3 or more specific activities and recommendations about what they need to do to improve the competency. For each activity I want you to explain why this is a good activity and then I want you to provide a detailed rubric for how I might evaluate their performance for this activity.
Delivering Difficult Feedback
My direct report has [specific unproductive behavior such as missing deadlines], and their performance is affecting the entire team. I need to address this issue with them professionally, tactfully, and in a way that they will hear the feedback with the least likelihood of them being hurt by the difficult feedback. Can you suggest some ways to communicate my concerns effectively?
1:1 Meetings
Your 1:1s with direct reports is the most important place for you to build trust with them. AI can help you improve the effectiveness of these meetings by preparing you ahead of time, helping you run the meeting in the moment, and giving you both clearly communicated next steps.
Team meeting platform Groupthink is designed to help you and your direct reports plan your agenda, keep you on track during the meeting, and make action items clear to all parties. Try it today for free.
Writing Job Descriptions and Interviewing Candidates
Your recruitment team likely already uses AI to sort through the hundreds of resumes they receive. The next big step is using an AI to actually interview the candidate: A recent survey projected that by 2024, 40% of companies will run certain types of candidate interviews using AI products like Interviewer.ai.
Whether your company has advanced down this road or not yet, you can start using AI today to improve your skills as a talent manager and interviewer.
Writing a Stronger Job Description
AI writing assistants like Jasper can walk you step-by-step through composing compelling and clear job descriptions, something managers can get tripped up on.
Particular prompts to help you think through what you need include:
What are the most important skills a [job title] should have in a role?
What are the essential tasks a [job title] performs each week?
How should a [job title] be measured for each of these tasks?
Preparing for Candidate Interviews
The following prompts can help get better prepare you for an interview as well as help you come up with stronger questions designed to give you greater insight.
I'm interviewing a candidate for a [job title] position. What skills, attributes, or previous experiences are useful to ask them about during the interview?
Here's the job description for [role name] [insert text]. And here's the candidate's resume [resume text]. What particular parts of their experience should I inquire about more deeply to see if there is a match?
You're the interviewer for [job title] with the following job description [job description]. Can you come up with 3-5 interview questions based on this job description?
You're the candidate interviewing or this role: [job description]. Here is information about your past experience [mock resume]. Conduct a mock job interview with me. Here is my first question:
What questions will this candidate likely ask me about working for me, for my company, and for this [job title]?
Learning and Development
AI can save you and your team time while learning, and can allow you to practice skills relevant to your teams.
AI-Driven Content Summaries
You and your team need to stay on top of industry trends and news.
One recent favorite for saving time while learning is TLDR This, and AI-driven article summarizer that can take "any piece of text into concise, easy to digest content so you can free yourself from information overload."
Meanwhile, Glasp, a web browser app for highlighting and saving information you find, offers an AI-powered summary of content you find, which you can share with colleagues. Take audio notes of what you learned? AudioPen transforms these notes into publishable text.
AI Coaches
Practice makes perfect, but finding people to practice your skills with can be difficult. Luckily more AI tools are launching everyday that help you rehearse and refine.
One great example for salespeople is SecondNature, which has a personable AI that lets them rehearse, tracks how they performed, and gives realtime feedback.
How AI Can Improve Your Meeting Management Skills
Effective meeting management can transform your team's productivity and job satisfaction. It can also spare people the pain of useless meetings on their calendars.
Scheduling Meetings and Protecting the Team's Time
Tired of the same-old back-and-forth trying to find a time to meet? And even worse, can't seem to protect your calendar to get deep work done? Luckily, several AI-powered products have risen to help you and your team get booked faster and leave room for important non-meeting work.
Setting Clear Agendas and Managing Followups
Could that meeting have been an email? Meetings are important mediums of work and decision-making, yet too many can contribute to team burnout, decreased productivity, and lack of trust in a manager's leadership.
The key to more effective meetings are setting clear agendas and managing followups — who is accountable, what are they delivering, and when will they have it.
AI can reduce meeting fatigue by transcribing meeting notes. Next-level meeting AI tools like Groupthink also automate core insights and decisions from every meeting so managers and team members don't have to. Groupthink will also automatically add an agenda to every meeting you host, or even every meeting you attend. Finally, it provides both a personal feed of your meeting summaries as well as an organization level feed so that teams can reclaim their time and focus on execution.
Try Groupthink today for free.
How AI Can Improve Your Business and Project Management Skills
You can harness AI to bolster your strategic vision, enhance decision-making, and get more administrivia out of your way faster.
Strategic Decision Making and Data Analysis
As you've learned, you can use AI to help you generate ideas and improve your thinking. You could use prompts to explore new marketing strategies for a target audience, develop SWOT analyses, and you could even use AI to analyze your data to determine trends. For example, here's a walkthrough on how to use ChatGPT and Google Analytics to identify user segments that might churn.
You can also generate 100s of potential scenarios for your planning sessions such as what would happen if a natural disaster disrupts your supply chain or what could happen if your largest competitor acquires your second largest competitor?
As Lisa Bodell writes, "teams can generate further scenarios that combine multiple events or outcomes. AI's capacity for creativity, innovation and future-proofing could reduce the fatigue of strategic-planning sessions — and boost productivity in everyday brainstorms."
Project Management
Your team likely already using a project management system. Thanks to AI, manager's lives keeping track of priorities and projects in these platforms is about to get easier.
Take for instance Notion's approach to generative AI in its workflow: "Artificial intelligence becomes more useful when it's integrated across the place where you're already doing your work." Once this is powered with systems like Slack's upcoming generative AI tools will cascade AI power across your internal systems. Need to visualize your roadmaps? Miro's AI features can help you generate mind maps, sequence diagrams and more.
Overwhelmed by how to even start your list of To-Dos and priorities? Once again, AI is here to help. "Magic" to-do bots like Goblin Tools can take any priority you have and instantly break it down into project steps for you to walkthrough.
Routine Reports and Presentations
Managers lose hours each week to things like routine reports, spreadsheet and data updates, and slide creation. These AI products can help you take back that time.
Writing Assistants for Your Reports and Emails: Grammarly, ChatGPT, Anthropic, Writesonic and any of the growing list of new AI writing products.
Slide Design and Creation Assistants: Beautiful.ai, SlidesAI, and Canva, which has unleashed a suite of AI-driven design support.
Data Report Support: Formula Bot can help you generate formulas, analyze data, and — major time saver — automate tasks in your spreadsheets.
Get More AI-Driven Manager Insights
Whether you're seeking to enhance your management best practices, eyeing the next promotion, or simply striving for continuous improvement, integrating AI tools can be your secret weapon. Dive into these tools, and redefine what it means to be an exceptional manager in the digital age.
Sign up for Groupthink's newsletter today to stay up-to-date on these tools and more.