Staying up-to-date on your team's meetings and decisions is crucial, but attending every single one isn't always possible. That's where Groupthink's latest and greatest steps in. We're excited to unveil our new Slack Integration, designed to ensure you never miss a beat, even when you can't be there in person.
This new integration is an extension of Groupthink's ability to automatically take and share notes from your Zoom, Meet, or Teams meetings, as well as our work on meeting feeds.
Stay in the Loop, Effortlessly
Groupthink's Slack integration brings the power of succinct meeting summaries directly into your Slack workspace. With this new integration, you can:
Receive Summaries Instantly: Get recaps and action items from meetings delivered to the Slack channel of your choice so you're always informed. In addition to public Slack channels, hosts or attendees can send meeting summaries via Slack DMs to themselves and/or others in the Slack org.
Simplify Knowledge Sharing Across the Organization: Foster transparency and collective intelligence by making meeting summaries accessible to the entire team. Users with admin access in Groupthink can set up a summary meeting feed of all public meetings for their organization into the Slack channel of their choice. With this, employees can tap into the pulse of your organization with summaries from all corners, not just the meetings they attend.
Subscribe to a Meeting: Can't or don't want to attend a meeting but still want to stay in the loop? With Groupthink, you can subscribe to a meeting feed as you would with a newsletter and get Slack DMs of the meeting summaries. Hosts, attendees, and followers of meetings can also get once-a-day summaries via Slack DM of all meetings they select, similar to an email digest of the day's activities.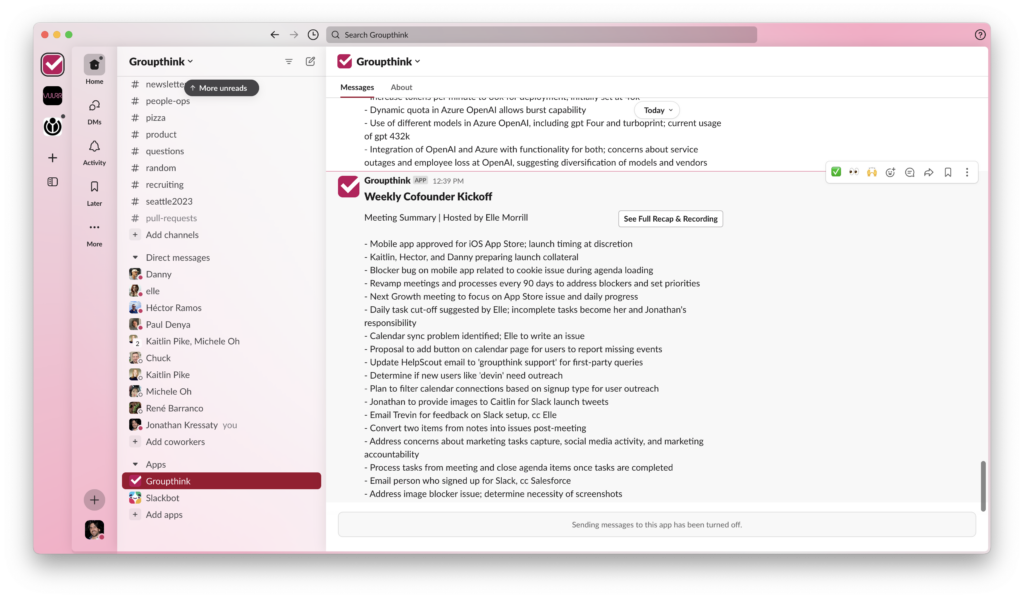 How to Connect Groupthink to Your Slack
Setting up is a breeze, and you'll be ready to go in just a few clicks:
1. Navigate to Orgs > Settings > Notifications in the Groupthink app.
2. Click the Connect to Slack button and follow the prompts to authorize Groupthink to access your Slack workspace.
3. Once you're connected, Groupthink gives you the flexibility to select which Slack channel receives the summaries for each specific meeting. Whether it's a departmental channel or a project-specific one, you have complete control over where the information goes.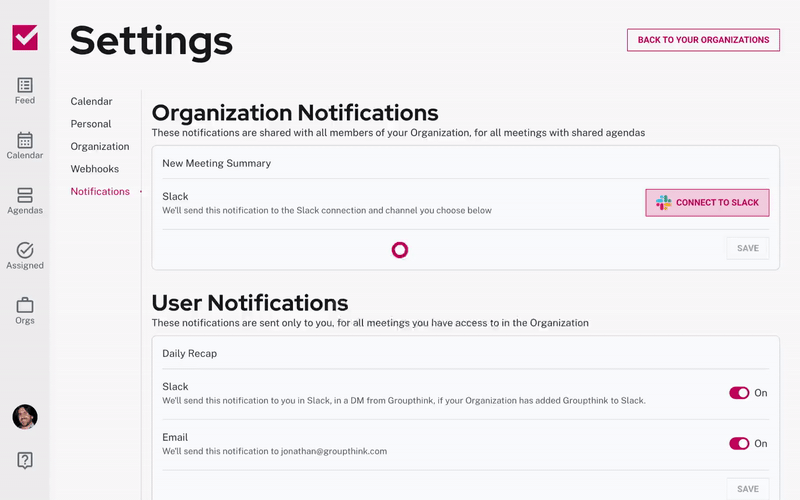 Customization at Your Fingertips
With Groupthink's Slack integration, you're not just integrating a tool; you're adopting a smarter way to work. Say goodbye to the fear of missing out on important discussions and hello to a world of informed decision-making.
Stay tuned for more updates, and here's to saving time with quick meeting digests with Groupthink.